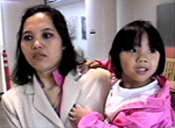 Worlds Apart: A Series on Cross-Cultural Health Care
Stories of four diverse patients illustrate how culture affects communication and medical decision making. An Afghan man with stomach cancer decides about chemotherapy amid miscommunication due to translation issues and religious convictions. The mother of a 4-year-old girl from Laos is caught between physicians who say her daughter needs surgery, and her mother who upholds traditional Khmu beliefs against scars. An African-American man on dialysis discusses prejudices against blacks in the health care system. A 60-year-old Puerto Rican woman explains the complex social situation that affects her ability to manage her chronic health problems. (2003)
Discussion led by Dr. James Campbell, professor and director of research in Family & Community Medicine in the MU School of Medicine; and Dr. Dong Pil Yoon, assistant professor in the MU School of Social Work.
Download free Study Guide at www.fanlight.com.
Feb. 19, 2009 – 7 p.m
Wrench Auditorium (South Memorial Union
University of Missouri
Part of the "Spirituality & Health" film series sponsored by the MU Center on Religion & the Professions. Free.


Sponsored by the Center on Religion & the Professions