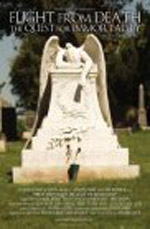 Flight from Death: The Quest for Immortality
Narrated by Gabriel Byrne, this seven-time Best Documentary award-winning film is the most comprehensive investigation of humankind's relationship with death ever captured on film. Hailed by many viewers as a "life-transformational film," the film uncovers death anxiety as a possible root cause of many of our behaviors on psychological, cultural and spiritual levels. With footage shot in eight countries, it features an all-star cast of authors, philosophers and researchers exploring what humans do to assuage fear of death. (2003)
Discussion led by Dr. Jamie Arndt, associate professor in the MU Department of Psychological Sciences, who appears in the film.
Feb. 19, 2009 – 7 p.m
Wrench Auditorium (South Memorial Union
University of Missouri
Part of the "Spirituality & Health" film series sponsored by the MU Center on Religion & the Professions. Free.

Sponsored by the Center on Religion & the Professions