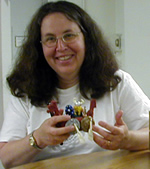 University of Missouri Kemper Scholar Dr. Lois Huneycutt presents a lecture on "The Religion of the Astronauts" about astronauts and their views on religion before and after being "up there." The lecture is part of a series of "Hot Button Thursdays" lectures at Carpe Diem in Columbia. The series includes "lectures, talks and discussions on themes that may vary from curious to polemic; from funny to inconvenient."
Huneycutt is an associate professor of history at University of Missouri.
July 9, 2009 – 7-8 p.m.
Carpe Diem
807 Locust St.
Columbia, Mo.
Free and open to the public. Space is limited. RSVP by sending an e-mail to info@carpediemcolumbia.com requesting number of seats. For more information, see www.CarpeDiemColumbia.com.