April 9, 2009 – Former Los Angeles Times reporter William Lobdell addressed a packed house April 7 during his appearance at the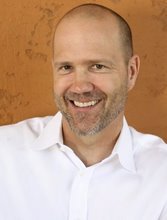 Reynolds Journalism Institute at University of Missouri. Lobdell, author of "Losing My Religion: How I Lost My Faith Reporting on Religion in America – and Found Unexpected Peace," spoke to more than 100 people with standing room only in the Fred W. Smith Auditorium. Lobdell signed copies of his book after the lecture.
A longtime reporter and editor, Lobdell covered religion at the L.A. Times for eight years, before revealing in a column that covering stories such as the Roman Catholic clergy abuse scandal and financial malfeasance among Christian TV ministries caused him to lose his Christian faith.