Through its research, teaching and resources, the Center promotes the values of the University of Missouri.
MU's Core Values
Respect for self and others as the foundation of honor, integrity, ethical behavior, and the search for truths.
Responsibility to reflect on one's moral obligations and to be accountable to self and others for actions taken.
Discovery in order to gain greater understanding and wisdom.
Excellence, both individual and collective, in pursuit of the highest goals we can envision.
Source: University of Missouri
MU's Mission
Our distinct mission, as Missouri's only state-sponsored member of the Association of American Universities, is to provide all Missourians the benefits of a world-class research university.
We are stewards and builders of a priceless state resource, a unique physical infrastructure and scholarly environment to which our tightly interlocked missions of teaching, research and service work together on behalf of all citizens. Students work side by side with some of the world's best faculty to advance the arts and humanities, the sciences, and the professions. Scholarship and teaching are daily driven by a sense of public service – the obligation to produce and disseminate knowledge that will improve the quality of life in the state, the nation and the world.
Philosophy
Respect for one's self and for others is the foundation of honor and the basis of integrity. A hallmark of our community is respect – for the process by which we seek truths and for those who engage in that process. Such respect is essential for nurturing the free and open discourse, exploration, and creative expression that characterize a university. Respect results in dedication to individual as well as collective expressions of truth and honesty. Respect is demonstrated by a commitment to act ethically, to welcome difference, and to engage in open exchange about both ideas and decisions.
Source: University of Missouri
MU's Core Learning Objectives
Goal 1: Graduates of MU will be able to perform systematic inquiry and identify and evaluate new information in light of previous knowledge.
MU graduates should be able to:
Identify issues and problems important to society, define their scope, and identify information needed to address them.
Find existing sources of information on a topic.
Evaluate the accuracy, validity, and reliability of information presented in a wide variety of media.
Conduct appropriately focused library, field or laboratory research.
Analyze and synthesize information gathered, demonstrating strategic and logical reasoning skills.
Demonstrate understanding of costs, benefits, and/or consequences of proposed resolutions of issues and problems important to society.
Organize information, data, and ideas for further analysis and/or presentation.
Goal 2: Graduates of MU will possess the knowledge, abilities, and skills necessary to communicate effectively.
MU graduates should be able to:
Communicate information to a variety of audiences and purposes.
Revise and edit their presentations to improve clarity and accuracy.
Engage in the healthy and positive exchange of ideas.
Apply communication skills in furthering their post-MU careers.
Use multiple formats and technologies to communicate ideas effectively.
Goal 3: Graduates of MU will possess the knowledge, abilities, and skills necessary to serve society responsibly.
MU graduates should be able to:
Know the duties of responsible citizenship.
Identify and analyze the requisite behaviors for carrying out their academic and professional lives with integrity.
Work collaboratively with others where appropriate.
Goal 4: Graduates of MU will know how to observe and critically analyze the diverse human experience.
MU graduates should be able to:
Engage in life-long learning.
Appreciate fine art and literature.
Understand the contributions of diverse groups and experiences to life at the individual, community, national, and the world levels.
[Endorsed by the MU Committee on Undergraduate Education in 2005 and the Executive Committee of the Faculty Council in 2007]
Source: MU Office of the Provost
Intellectual Pluralism
The proper expression of both academic rights and responsibilities is required for a reasoned and respectful debate that explores a diversity of views and perspectives about complex, and often controversial, topics. This is the essence of Intellectual Pluralism. The University of Missouri supports the American Council on Education's Statement on Academic Rights and Responsibilities(.pdf).
We are committed to Intellectual Pluralism in its many dimensions – political, cultural, religious, international, disciplinary, economic, lifestyles – and to encouraging and supporting robust debates over issues of academic interest.
[Intellectual Pluralism report to the Board of Curators, April 2007]
Source: MU Office of the Provost
MU's Commitment to Diversity
Diversity is a reality in the world and in our American society. MU values this diversity because it is inherent in our institutional values of respect, responsibility, discovery and excellence.
Valuing diversity grows out of respect for others and for self, despite our differences. Honoring diversity is required in order for us to carry out our institutional responsibility and moral obligation to all the citizens of Missouri. Being open to diversity is essential for discovery because what we ourselves know is not all that is. Welcoming diversity is integral to achieving excellence, since without it our own views and opinions are not challenged and honed.
To value diversity requires action on the part of MU, not just words. In order to be faithful to our values, we advocate working actively to build understanding and collaboration across our varied campus and global cultures. Specifically, MU must:
Cultivate a welcoming environment for all members of the community;
Reflect the diversity of the state by encouraging the participation of all who are qualified; and,
Help faculty, staff and students, through education and example, to live productively and peacefully in an increasingly diverse society and world.
[MU Values Committee, December 2004]
Source: Chancellor's Diversity Initiative
Missouri School of Journalism
"The wise shall be the bearers of light."
As an affiliate of the Missouri School of Journalism, the Center on Religion & the Professions additionally supports its mission.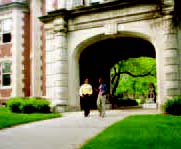 Mission
To teach students the principles and techniques of journalism,which we define as a current, reasoned reflection, in print or telecommunications,of society's events, needs and values. Our teaching emphasis will be on clear thinking, good writing and effective presentation, which will help students attain the standards of excellence articulated in Walter Williams' Journalist's Creed – especially "that the supreme test of good journalism is the measure of its public service." We must be leaders in teaching not only what the profession of journalism is, but also what it should be. We must prepare students not only for careers but also contribute to their development as ethical and productive citizens. We must educate the heart as well as the mind.
To serve, improve and provide leadership to both university and the journalism, telecommunications and advertising professions through a variety of activities and service such as workshops, publications, industry service units, award competitions, consulting, research plus university and professional committee work. We must be leaders in helping journalism professionals redefine their missions, goals and responsibilities so they can serve their ever-changing communities more effectively.
We must be leaders in helping educators to expand their definition of journalism to include a wide range of academic subjects from political science to psychology, from literature to computer science, and from aesthetics to business, so that journalism can be recognized and appreciated for its breadth, richness and inextricable relationship to the liberal arts.
To create for the students, faculty, administration and staff of the School of Journalism a challenging, intellectually stimulating, professionally rewarding, cooperative, participative, secure, supportive and collegial environment that encourages risk taking and the creation of new knowledge through research and creative activity. Also, to create and maintain an environment in which academic freedom is protected with the same vigor as truth.
To be sensitive and responsive to the needs, concerns and interest of our multiple stakeholders: students, parents, faculty administrators, the curators, staff, alumni, professionals, media, potential employers of students, supporters, suppliers, government, educators and community.
To maintain, enhance and promote the reputation of the School of Journalism. Fundamental to the School's character and its heritage as the world's first School of Journalism is its professional orientation. We believe students learn best by doing, whether in the practice of a craft, the conduct of research or the creation of new ideas. Thus the school's media, laboratories and research operations are an integral part of the school's curriculum and the student's learning process. Our media must be at the forefront of change and excellence if we expect our students to be the same.
Source: Missouri School of Journalism