Debra Mason, Director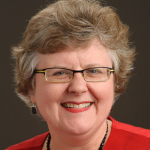 Mason is among the leading U.S. scholars of how religion is portrayed in the news media. She brings more than 30 years of professional and scholarly experience to her position as director of the Center on Religion and the Professions, an interdisciplinary center at the MU School of Journalism that works to improve the religious literacy of professionals, to help them serve a diverse public.
Learn more about Mason and her research interests on her faculty page.