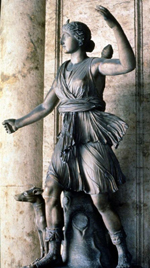 This multi-media exhibition explores religious images of women in art from antiquity to the present. Artworks represent the Mediterranean, western Europe, Americas, Africa and Asia. Diane Apostolos-Cappadona, professor of religious art and cultural history at the Center for Muslim-Christian Understanding at Georgetown University, will give the keynote address. A wide range of media, including bronze, stone, wood, and terracotta sculpture, painting and textiles, will be showcased.
The exhibition features an exhibit, academic symposium, keynote speaker and additional related events.
"The Sacred Feminine: Prehistory to Post-Modernity"
DATES:
Exhibit runs Aug. 29, 2009 to Dec. 24, 2009
Museum of Art and Archaeology
Pickard Hall, University of Missouri
Keynote is Oct. 17, 2009
The event is hosted by the MU Museum of Art and Archaeology with co-sponsorship from the Center on Religion & the Professions and other University of Missouri organizations.