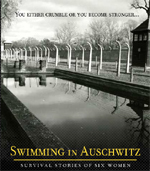 Jewish women, from different countries and backgrounds, found themselves deported to the notorious concentration camp, Auschwitz-Birkenau, during the Holocaust. This film aims to chronicle that experience through those female eyes. While subject to the same physical hardships as men, the women do not dwell on that. Instead, they speak of camp families and faith, uplifting one another while trying to remain human. It was this path of spiritual resistance that, while not responsible for their direct survival, led to their ability to survive with healthy minds and spirits despite their surroundings. (2007)
Discussion led by Dr. Brick Johnstone, MU professor of health psychology and head of CORP's Spirituality and Health research team.
April 2, 2009 – 7 p.m
Wrench Auditorium (South Memorial Union
University of Missouri
Part of the "Spirituality & Health" film series sponsored by the MU Center on Religion & the Professions. Free.

Sponsored by the Center on Religion & the Professions