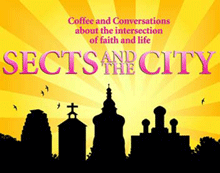 Do you pray at work? Hear from those for whom prayer is part of daily practice, including in their professions. For some it is part of their prescribed faith practice, such as praying five times a day. For others, prayer connects them to God throughout the day or guides them in decision-making. Some workplaces make accommodation for prayer, some do not. Find out what it means to them to be able to pray at work and how it relates to their professions.
Features: Abdullah Smith, imam of the Islamic Center of Central Missouri; Dmitri Baklanov, cardiologist and assistant professor in the MU School of Medicine; and Stephen Montgomery-Smith, professor of mathematics at University of Missouri.
Part of the "Sects and the City: Coffee and conversation on the intersection of faith and life" series co-sponsored by the Center on Religion & the Professions.
April 11, 2009 – 11 a.m.-noon
The Cherry Street Artisan
111 S. 9th St., Suite 10
Columbia, Mo.
Free and open to the public.
(Note: this event was rescheduled from Feb. 14, 2009.)
(Note this post refers to earlier, incorrect date for this event)