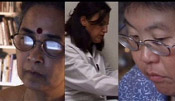 This documentary offers an intimate look at the lives and work of three American women – a Buddhist, a Hindu, and a Muslim – for whom faith, activism, and identity are deeply intertwined. Shamita Das Dasgupta uses strong female figures in Hindu myth to provide encouragement to battered women to leave abusive husbands. Laila Al-Marayati illustrates how the Muslim principle of "zakat" served as the inspiration for the first free clinic in South Central Los Angeles. Mushim Ikeda-Nash integrates the experiences of women into the American Buddhist practice. The film offers insight into thought and action being created by women activists of various religious and cultural traditions in the United States. (2005)
Discussion led by Dr. Guy McCormack, clinical professor and chair of the Department of Occupational Therapy in the MU School of Health Professions. Free refreshments courtesy of DAYS INN/TRAVELODGE.
March 5, 2009 – 7 p.m
Wrench Auditorium (South Memorial Union
University of Missouri
Part of the "Spirituality & Health" film series sponsored by the MU Center on Religion & the Professions. Free.

Sponsored by the Center on Religion & the Professions