June 17, 2009 – Debra L. Mason, director of the Center on Religion & the Professions, addressed more than 80 Kiwanis members during two recent speaking engagements. Mason spoke to a Columbia Kiwanis club on April 28 and to the Fulton Kiwanis Club on June 11, both on the topic of t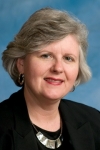 he Center, religious literacy and the professions.
In addition to directing the Center, Mason is a professor of journalism studies at the University of Missouri School of Journalism and executive director of the Religion Newswriters Association. She is a nationally recognized, award-winning and widely published specialist in religion journalism, with more than 25 years of professional teaching, research and reporting experience.
The Center on Religion & the Professions (CORP) was founded in 2003 with a mission of improving religious literacy among professionals, to help them serve a diverse public. It performs research and creates curriculum, resources and public programming to accomplish that goal. For more information about the Center, call (573) 882-9257.